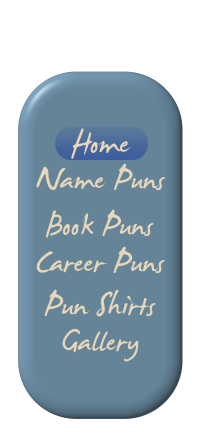 A 'suite' of sweet puns!
Some are old... some are new... all can be made into t-shirts and mugs.
ENJOY!
NamePuns.com
More than 1,000 name puns, alphabetized to make it manageable
Name Pun Generator
Generates random pun names
BookPuns.com
Hundreds of 'punny' book title & author puns
PunShirts
Some of our puns on ready-to-order items, using our artwork.
Pun Ranomizer!
hundreds of random puns to make you laugh.
All rights reserved © bookpuns.com 2000-2013 .